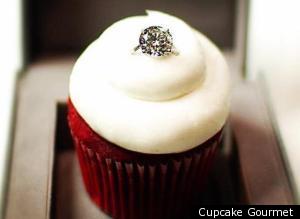 It's February, which means many men the world over are at their wits-end trying to devise the most romantic way to convey to their significant other just how much they love them.
For a large percentage of men Valentine's Day also holds the added pressure of a proposal. That's right, popping the question has become somewhat of a Valentine's Day tradition, and oddly enough, this monumental question of whether or not you'll decide to spend the rest of your life with someone is often accompanied with food. Bribery? Sedative? Perhaps...or it could be that food offers a certain level of comfort to ease both parties into the scenario, a certain level of celebration as well if the answer proves favorable.
In an effort to simplify shopping duties for the groom-to-be, a Philadelphia based bakery,
Cupcake Gourmet
, has concocted a
$55,000
cupcake complete with an 8 carat engagement ring from a local jeweler. The cupcake is red velvet with traditional cream cheese frosting, and while it looks delicious enough to devour in under 2 minutes we suggest carefully monitoring the dessert course in this situation.
Cupcake Gourmet
is not the first bakery to create a dish specifically for engaging couples. Many restaurants, bakeries and shops will have items and specials devoted to encouraging monogamy this month. Buyers and diners beware, if you're in a serious relationship and are expecting a proposal any day now you may want to take your time with every bite this Valentine's Day, oh and pay attention to your champagne glasses too!