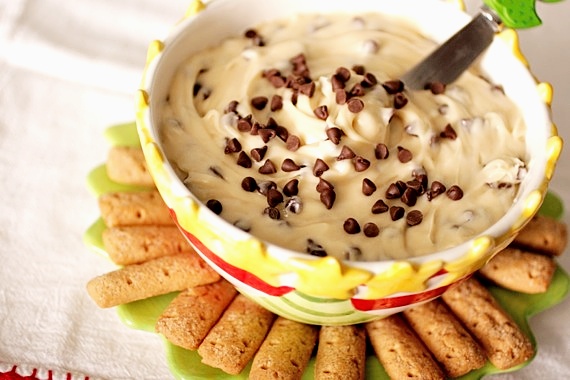 It's Friday! Statistics show that most diets often suffer during the weekend, and here at Yumology we're not ones to mess with tradition. Therefore we are passing along a Cookie Dough Dip recipe first brought to our attention by the lovely and talented Rose Garcia, who claims to have found it in the
Sing for Your Supper Blog
.
If you're planning on visiting friends this weekend or having people over this could be a fun, unorthodox way to round out the evening meal!
Chocolate Chip Cookie Dough Dip
1/2 cup butter
1/3 cup brown sugar
1 8oz block of cream cheese
1 cup powdered sugar
1 tsp vanilla extract
1/2 tsp kosher salt
1 cup mini chocolate chips (reserve 1/4 for topping)
Melt the butter over medium heat and whisk in the brown sugar until it dissolves and begins to bubble.
Remove from heat, add the vanilla extract and set aside to cool.
In a separate bowl mix the cream cheese and powdered sugar together until smooth.
Use an electric mixer on low and slowly add the brown sugar mixture and salt to the cream cheese and powdered sugar.
Stop mixing and stir in the chocolate chips with a spoon.
Top the bowl off with the reserved chocolate chips and serve with your favorite dessert cookies, animal crackers, graham crackers or nilla wafers.