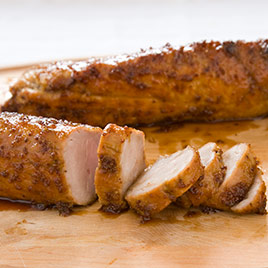 This recipe is a Yumologists favorite for a weeknight dinner in a pinch. Tasty, hearty and healthy this meal is guaranteed to keep your family coming back for more.
1 pork loin
2 tbsp brown sugar
1 tbsp black pepper
1 tbsp salt
Combine the sugar, salt and pepper together and rub on the pork loin after you have patted it dry on a plate.
1 large Vidalia onion
2 large red bell peppers
2 large carrots
2 medium red apples
1/2 cup of olive oil
1/2 cup of Shiraz red wine
1/2 cup or bourbon
1/2 cup of water
Layer the chopped vegetables and apples along the bottom of a small Dutch oven. Pour in the olive oil and toss the vegetables and apples so they are fully coated. Add the Shiraz, bourbon and water.
Add the pork loin to the pot and pour in 1/2 a bottle of hickory flavored B.B.Q. sauce. Let cook in the Dutch oven for 45 mins. to 1 hour on 350 degrees.
Remove pork loin from pot, slice, top with vegetables from pot and small amount of cooking sauce. Yumologists often serve this dish with rice or potatoes. Enjoy!
Image courtesy of http://www.americastestkitchen.com/